Last updated on July 28th, 2023 at 01:32 pm
Nearshoring software development in Mexico can be one of the most profitable things a foreign company can do. It can give your company a competitive edge. But sometimes, the steps to start a business in Mexico may not be clear, and getting the proper assistance is difficult.
Therefore, we decided to write this article to give software development companies looking to start operations in Mexico an overview of their options for nearshore development in Mexico and the steps they must follow to accomplish this endeavor. So, first, let us take a look at the advantages. 
Nearshoring Software Development In Mexico Vs. Offshoring
Nearshore Development in Mexico Connectivity: Far Vs. Close
So first things first: Geographic Location. Nearshoring software development to Mexico gives you a chance to visit often. I know all there is to know about how we live in a globalized, borderless, digital, virtually interconnected, everything-a-click-away era. But some things haven't changed, and distance is one of them, at least for now.
Nobody likes sitting in a plane for 15 hours straight for a work-related visit. So, this is a significant advantage that nearshore software development in Mexico has over other parts of the world, at least for American companies. Mexico offers several easy-access International Airports.
For example, Guadalajara, the Mexican Silicon Valley, is about 6 hours away from the furthest place in the US. You could wake up one morning, hop on a plane, and eat tacos for lunch.
In the following image, you can see a map with the connection times to Guadalajara, Mexico.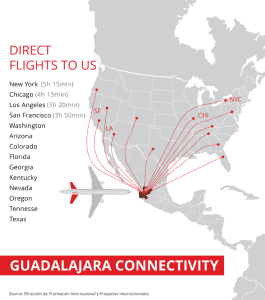 Now, let us take a look at connectivity in an offshoring company.
Offshoring Connectivity
As opposed to nearshoring, offshoring has bad connectivity. To hire a team of people and have them work without supervision is every CEO's dream, but it is rarely the case. In reality, you are going to need to travel constantly to the country where your offshore company is established. This is another big point for nearshoring software development to Mexico.  When you establish your company in a country that is too far away this turns costly and tiresome. The following table gives you an idea of the times and distances to different cities that are commonly used for offshore IT and software development.
Whether we like it or not, geographic location still plays a significant role in how the economy works. Therefore working with people nearby does make a big difference in the levels of productivity and efficiency. And talking about efficiency, how about having the same time zone?
Nearshore Development In Mexico Time Zone: Day Vs. Night
The most significant difference there can be from any place in the US with a place in Mexico (Ok, excluding Hawaii and Alaska) is a 2-hour difference. And this is in extreme cases, as in coast to coast. For example, Guadalajara and Chicago have the same time throughout the year. This makes communicating with your nearshore software development team in Mexico easy. With software like Skype or Google Hangout, it can be as if you are working in the same place. This reflects the quality of your software.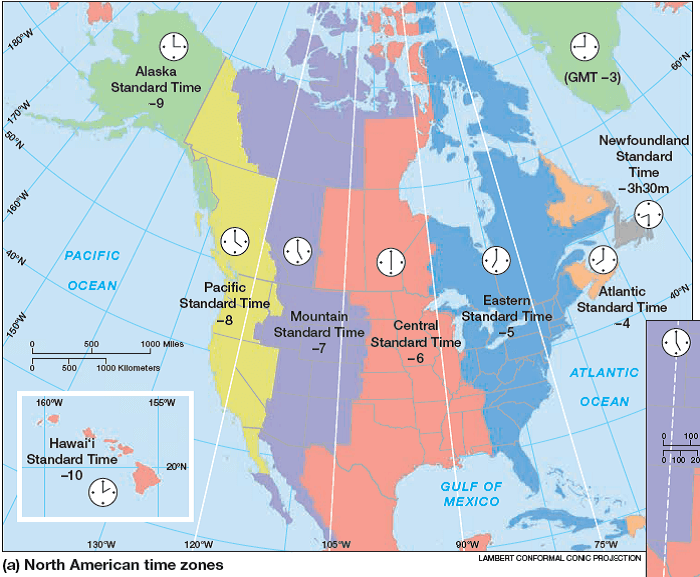 Offshoring: A Time Zone Nightmare
Contrary to nearshore development in Mexico, offshoring has a significant disadvantage. As you know, when looking at a map, the further you move to the left or right, the larger the time difference becomes. And this isn't government-imposed either, so don't start blaming big brother for this one. This is the natural way in which, in some places, it is daytime and, in some, nighttime. And some places have a time difference of more than 24 hours.
Time zone difference is one of those things that at first looks like it's not really that bad until you are in the day-to-day operation and you realize that while you are all fresh and ready to tackle your day and in let's-conquer-the-world mode, your team abroad is in an after-hours, end-of-the-day, zombie-like mode. The difference in time zones has always been a significant issue with offshoring. Developers must often work at night, which of course, reduces the quality of the end product. Software errors are typically the result of stress and sleeplessness, and many programmers burn out before the project is complete.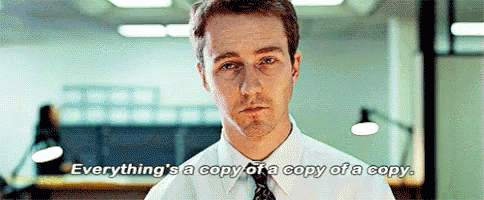 Intellectual Property: Certainty Vs. Theft
In Mexico, intellectual property rights are well stipulated and enhanced by international agreements that protect your company's intangible assets. Mexican government agencies overlook intellectual property rights protection based on the Industrial Property Law, the Federal Copyright Law, and the International Agreements to which Mexico belongs. The protection of intellectual property in Mexico improved when the country became a party to the North American Free Trade Agreement.
Mexico is also part of the World Intellectual Property Organization since 1975. The WIPO is the global forum for intellectual property services, policy, information, and cooperation. Mexico is part of the Paris Convention for the Protection of Industrial Property, one of the first intellectual property treaties. Therefore, when nearshoring software development to Mexico, you can be sure your IP will be protected.
Offshoring IP Theft
One last disadvantage is IP theft and security issues. You need to find a country where the IP laws are shared with your country. Otherwise, you could be a victim of IP theft. Several companies can help you with this. But the more protected you are, the better. These are the most valuable assets we are talking about.
Other Advantages Of Nearshoring Software Development To Mexico
A Large Pool of Talent
Mexico has a large pool of talented software developers and IT professionals. Mexico graduates upwards of around 65,000 engineers in IT & Software related fields. More than 80 higher education and other institutions offer programs in engineering. There are close to 500,000 IT & Software professionals in Mexico. And this is the reason why Guadalajara, a city in the state of Jalisco, was chosen to become the next Creative Digital City. This is a dream for anyone nearshoring software development to Mexico.
Low Costs
Talent is great. But the fantastic thing about hiring a Mexican team of talented developers is that it costs a third of what it would cost to hire them in the US is a whole different thing. In our ebook, Mexico's Software Development Costs, you can get a clear picture of how much it costs to start your operations here. But one thing is sure, nearshoring software development to Mexico will save you a lot of money.
Nearshoring Development To Mexico: Similar Cultures = Better Communication
Most professionals in Mexico speak English quite well. But besides that, Mexico and the US have always had a particular cultural affinity. All the media we get (movies, music, series, etc. is usually in English). This may be one of the reasons why we are so used to the American culture and have such a high number of English-speaking professionals. Therefore, you can be sure that if you nearshore your software development to Mexico, you will be able to understand your team.
Government Incentives
Mexico's government is determined to consolidate the country as the creative digital hub of Latin America. Therefore, it has developed public programs that provide financing and resources to assist IT & software companies. This is one of the reasons so many companies are nearshoring software development to Mexico.
Some of the most essential programs are:
CONACYT. Mexico's Science & Technology Council. They support R&D, technology infrastructure investments, and IT innovation projects.
PROSOFT. Provides financial support for the development of software &  IT projects in Mexico.
Nearshore Development In Mexico: How To Start
Companies looking to nearshore software development in Mexico have two paths. First, they can start operations through an Employer Of Record. This service is often overlooked because companies do not understand how hard Mexican bureaucracy is, but it essentially allows you to hire employees in the country without the hassle of incorporating a company. The other option, of course, is incorporating a subsidiary and starting operations. Let us take a look at the differences and costs of each. 
Employer Of Record
Through our EOR service, a company can nearshore development to Mexico fast. Through an Employer of Record, you do not need to incorporate a company in Mexico. You simply tell us who you would like to hire, and we will hire them on your behalf. It is a three-sided contractual agreement where we hire your employees, handling all the administrative hassle. Then, once a month, we would invoice you for the total amount of that month's payroll plus the EOR fee. Simple. 
I would say that if you are looking to hire less than ten employees, EOR is definitely your best choice.  Let us take a look at the costs. 
US $200 – $350, depending on the number of employees.
One month (refundable) deposit equal to the salary of your employees.
During the first two years, according to Mexican labor laws, you would accrue the rest of the employees' severance pay (three months). This is also refundable in case of a resignation or a justified termination.
Starting A Nearshore Development Operation In Mexico 
Since we already wrote a comprehensible article on starting operations in Mexico, I will try to simplify this as much as possible and focus on the problems you may encounter. 
First, you must decide between a Sociedad Anonima, the Mexican Corporation, and a Sociedad de Responsabilidad Limitada, the Mexican LLC. Once you have decided this, a Mexican Notary Public will incorporate your company. This process takes around one month. 
Now, you can incorporate your company as a foreigner; that is not a problem. However, you will need a legal representative with a Mexican tax ID. You must be careful because this implies a liability on both sides. On the one side, the legal representative has powers in your company and could misuse those. And, on the other side, if your company gets in trouble, he will face the consequences. We explain all about it in our legal representation in Mexico ebook.
The good news is that as Start-Ops, we can offer you a legal representation service while you get established.
So, once your company is incorporated, your legal representative must go to the tax authorities and procure the company's tax ID. After that, he must open a bank account and register the company at the Mexican Social Security Institute. Once all this is done, you can start hiring employees. 
How Can You Start?
We know it's hard to think about moving a part of your operations to a different country, and we have helped many companies of different sizes to do it hassle-free. Mexico is a different country with a different language, culture, business ways, and, most important, different laws.
This is where your company meets Start-Ops, your Mexican partner. The talent is right there. All there is to do is to establish an office in Mexico, hire a team of developers and start working. At Start-ops, we are experts at providing all-inclusive soft-landing solutions.  You can rely on us for everything your company needs to establish in Mexico.
A business needs profits to survive & grow. Stop being frustrated by thin margins. We have a step-by-step plan to help you succeed. Get in touch.